Popular Uses for Your Utility Trailer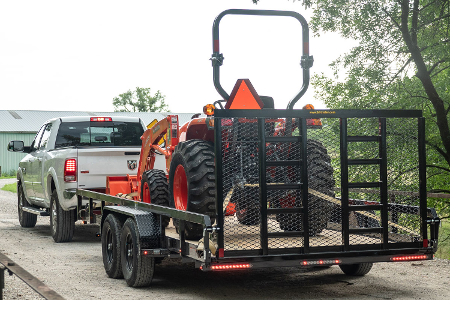 You have heard the clamor of people dreaming of getting a utility trailer. Heck, you have probably even looked at it and found some uses for one in your own life.
Living in Michigan there are ample needs these trailers. Here are just a few of the popular uses people have for them during all difference seasons.
Running Your Business
One of the best uses utility trailers is to supplement a business, and almost every business can use one. If you have a landscaping business, either full-time or as a side hustle, this would allow you to store your equipment and not have to constantly be wasting time loading and unloading between jobs.
But there are plent of other businesses that benefit too. Do you have a hobby business, like some kind of craft, that you sell at farmer's markets? A trailer will help you transport your wares and allow you to have a space from which to sell.
If cooking is your thing, you can also modify a trailer to be a pseudo food truck. There are a lot business opportunity options.
Powersports and Other Small Vehicles
Do you enjoy powersports like four wheeling, boating, or just about anything else? These trailers are prefect for you. They provide you the perfect storage area when you are not using them.
In addition to the normal power sport options, a utility trailer is also perfect for transporting small vehicles around Michigan. If you are planning on a camping trip, you can pack a golf cart of other similar mode of transportation. It is also a great place to store all of your camping equipment without overloading your passenger village.
Construction Supplies
Do you offer handyman or contractor services, a trailer can be a perfect addition for your business. Not only will this allow you to carry all of your equipment and tools, but also gives you the perfect place to haul supplies.
Even if you are just doing projects around your property, you need a way to haul all the supplies. Sure, the bed of a truck is a great place to start, but when it comes to large projects it may not be sufficient. Why make multiple trips when you can probably fit most of your supplies in a trailer?
Further, a trailer is a great place to secure these supplies while you are working on your project. There is little worse feeling than realizing someone has come and helped themselves to the supplies you had carefully budgeted to complete.
Moving Furniture
There is so much more moving that happens than when someone moves residences. Think about how many times either you have asked someone for helping moving something or know someone who has.
Sure, a trailer may not give you the extra hands and strength you need, but it does give you the space you need. No longer are you hoping the furniture you are buying will fit into the back of your truck or SUV. You no longer need to wait for a delivery service to show up and bring what you want in your home.
Removing Debris and Trash
Severe storms can happen all year around. It can be the summer storms with winds, rain, and hail, or the winter storms with snow, ice, and wind. The impact can be the same: a lot of debris strewn around. These storms are when people come together to lend a hand.
When you have a trailer, you are better equipped to help remove both storm debris as well as general home debris and trash.
Livestock
Many people in Michigan have moved to keeping some form of livestock. Sure, the big farms have massive semi trailers to move their animals. However, small personal farmers such as those that keep a couple fo goats or maybe a big or cow, do not need that much space. Utility trailers are perfect to help these farmers take your animals to shows or just bring them home.
Regardless of what your dream is for your trailer, you need to be sure it is properly setup. USA Trailer serves people throughout the state to create the perfect setup for whatever their need includes.