Utility vs Cargo Trailers for Landscaping Businesses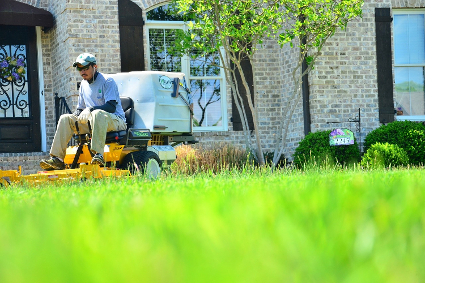 For people who own a landscaping business, having all the right equipment is essential to the business. While there are a wide variety of different lawn and garden tools needed for landscaping and lawn care, one of the most important accessories is the trailer that is used for hauling equipment to and from a job site. Because most landscaping jobs require specific equipment to be brought on-site, it is essential to get the right type of trailer to accommodate the most frequently used equipment.
Since each landscaping or lawn care contractor has a specialty focus, the trailer purchased for the business should focus on offering the best hauling space for the company's main focus of the business. For landscapers that are involved in extensive land upkeep, there is often a need to have secured space for a wide variety of landscaping tools and equipment pieces. For landscaping contractors that solely focus on lawn maintenance, a basic utility-style trailer is often the perfect all-around usage trailer. These trailers are diverse and easy to access.
However, when considering what type of trailer works best for a particular landscaping or lawn care business, there are a few essential considerations that should be made before a purchase is made. The most important things that should be considered include trailer usage, trailer size, ease of access for equipment, equipment accommodation, equipment safety, ease of maintenance, and cost.
The Cargo Landscaping Trailer
When it comes to safely keeping landscaping and lawn care equipment, cargo trailers are top-notch. Because they are enclosed the offer superior protection from the elements and potential theft, they also offer a great place to keep things stored when not in use. In contrast to using a utility trailer, the cargo style landscaping trailer can safely store landscaping equipment throughout the season as well as off-season. The enclosed cargo area offers owners the added benefit of having a mobile storage unit as well as a cargo carrier. This type of trailer is designed with either one or two access doors that make them easy to lock up and store tools and equipment during the offseason.
When it comes to the size of cargo trailers, they can range from smaller, easy to tow units to larger, more extensive trailers that can be perfect for storage and transportation of multiple lawnmowers or commercial landscaping mowers and other landscaping equipment. One of the other significant benefits of using a cargo landscaping trailer is their ability to allow for smaller landscaping and lawn care tools to be securely hung on the walls inside the trailer unit, such as hedge trimmers, shovels, pruning sheers and weed whackers.
For companies that are involved in more extensive landscaping design work or the building of water gardens, outdoor living spaces, or extensive commercial landscaping, the need for a wide variety of tools often makes the use of cargo trailers a great option. However, there are limitations. Since these trailers provide a confined space for hauling equipment, the transportation of plants, trees, shrubs, mulch, and other landscaping products are not as easily accommodated.
Cargo Style Trailer Advertising Benefits
Often one of the overlooked benefits for the use of a cargo trailer is the business recognition benefits that are available with this type of trailer. Because the exterior of a cargo trailer offers blank wall space, the opportunity is readily available to use this space for company promotions. Business owners can readily have their business name, logo, services offered, and contact information painted on the side panels of a cargo trailer to allow for free business advertisement anytime the trailer is on the road.
Utility Style Trailers for Landscaping
Open utility trailers may not offer as much security for equipment as cargo style trailers, but they do have many benefits. Most utility-style trailers offer a wider expanse of space and access for landscaping vehicles as well as providing a higher weight capacity than similar-sized cargo trailers. They also provide greater ease of access for landscaping vehicles to maneuver them on an off the trailer.
Landscaping companies should be conscientious about the height of the sides of a utility trailer. In most cases, extra height on the sides is recommended because they allow for even great versatility in usage. Because they have no roof or confined walls, open utility trailers are great for hauling mulch as well as landscaping plants, shrubs, and trees. This type of trailer is also perfect for moving masonry equipment that is used in part of landscaping for walls, patios, and gardens.
Utility trailers are also the perfect trailer for landscape clean-ups. The clearing of brush, removal of damaged or unwanted plantings can all be done easily with a utility trailer. Their open span space is perfect for the removal of all types of lawn and yard clean-ups. Because of their open span area, these trailers are also great for multi lawnmower transportation to job sites that have large land areas to mow and maintain, such as estates and commercial properties.
Experts You Can Trust
The experts at USA Trailer Sales carry a huge selection of hitches, trailers and accessories. We are always here to help you negotiate the many options and possible customizations available when buying your trailer. Please contact us with any questions you may have or stop by one of our six Michigan locations to speak with a local trailer expert today.